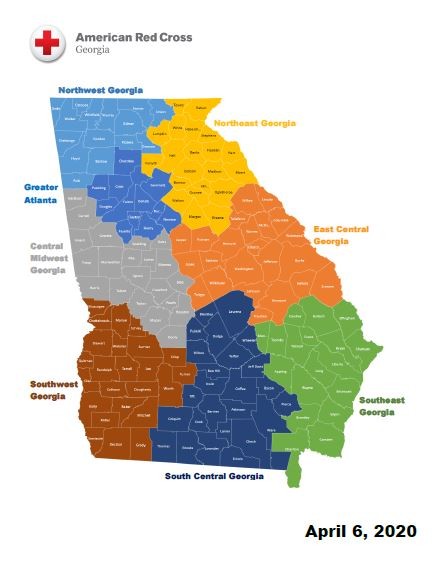 April 6, 2020 – Today, Georgia's Red Cross and regions nationwide are one step closer to helping our organization reach an important goal – the integration of Humanitarian Services and Biomedical Services into "One Red Cross."
"We're doing our part and making a few tweaks to our geographic structure in Georgia that will help to create better alignment across division, region and district or chapter boundaries," says Jennifer Pipa, CEO of Georgia's Red Cross.
Collective efforts will make it possible for all lines of business to operate in a more coordinated way, both now and down the road. The end results? Increased efficiencies and a better experience for our donors, clients and community partners.
How the New Alignment Will Look Like Nationwide:
Beginning the week of April 6th, the American Red Cross will transition from two Biomedical Services divisions and seven Humanitarian Services divisions to six new One Red Cross divisions.
Humanitarian Services will transition from a field structure of 58 regions to 50 One Red Cross regions, 37 of which include Biomedical Services. 
How the New Alignment Will Look for Georgia's Red Cross:
We will transition to eight chapter territories (formerly nine), working together to carry out our Red Cross mission statewide.
Some chapter names have changed to better reflect our geographic service areas.
Some counties will now be served by different chapters than they were previously.
Red Cross satellite offices in Dublin and Moultrie will now support the South Central Chapter headquartered in Valdosta. Offices in Columbus and Albany will now both support the Red Cross of Southwest Georgia.
Changes to materials are in progress and will be reflected over the next several weeks in print and online resources, including this website.
Georgia's Eight Chapter Service Areas at a Glance
Greater Atlanta (Region Headquarters):  
Executive Director: Terri Badour terri.badour@redcross.org
Previous Name: Metropolitan Atlanta
Office Location: 1955 Monroe Dr. Atlanta, GA 30324
Phone: 404-876-3302
12 Counties Served: Cherokee, Clayton, Cobb, DeKalb, Douglas Fayette, Fulton, Gwinnett, Henry, Newton, Paulding, Rockdale
Northwest Georgia
Executive Director: Leigh Brock Barba leigh.barba@redcdross.org
Previous Name: Same
Office Location: 112 John Maddox Dr. Rome, GA 30165 (Calhoun)
Phone: 844-536-6226
15 Counties Served: Bartow, Catoosa, Chattooga, Dade, Dawson, Fannin, Floyd, Gilmer, Gordon, Murray, Pickens, Polk, Union, Walker, Whitfield
Northeast Georgia
Executive Director: Marlon Trone marlon.trone@redcross.org
Previous Name: Same
Office Location: 1691 Meriweather Dr. Suite 103 Watkinsville, GA 30677 (Gainesville)
Phone: 706-353-1645
21 Counties Served: Banks, Barrow, Clarke, Elbert, Forsyth, Franklin, Greene, Habersham, Hall, Hart, Jackson, Lumpkin, Madison, Morgan, Oconee, Oglethorpe, Rabun, Stephens, Towns, Walton, White
Central Midwest Georgia
Executive Director: Heidi O'Sheehan (interim) heidi.osheehan@redcross.org
Previous Name: Same
Office Location: 900 Dallis St., Suite C LaGrange, GA 30240 (Macon)
Phone: 706-884-5818
21 Counties Served: Bibb, Butts, Carroll, Coweta, Crawford, Dooly, Haralson, Harris, Heard, Houston, Lamar, Macon, Meriwether, Monroe, Peach, Pike, Spalding, Talbot, Taylor, Troup, Upson.
East Central Georgia
Executive Director: Susan Landreth Everitt susan.landretheveritt@redcross.org
Previous Name: Augusta
Office Location: 1322 Ellis St. Augusta, GA  30901
Phone: 706-724-8481
23 Counties Served: Baldwin, Burke, Columbia, Emanuel, Glascock, Hancock, Jasper, Jefferson, Jenkins, Johnson, Jones, Lincoln, McDuffie, Putnam, Richmond, Screven, Taliaferro, Treutlen, Twiggs, Warren, Washington
Southwest Georgia
Executive Director: Adelaide Kirk Adelaide.kirk@redcross.org
Previous Name: West Central Georgia
Office Location: 6501 Veterans Parkway, Suite 3B Columbus, GA  31909 (Albany)
Phone: 706-724-8481
24 Counties Served: Baker, Calhoun, Chattahoochee, Clay, Crisp, Decatur, Dougherty, Early, Grady, Lee, Marion, Miller, Mitchell, Muscogee, Quitman, Randolph, Schley, Seminole, Stewart, Sumter, Terrell, Turner, Webster, Worth
South Central Georgia
Executive Director: Terri Jenkins terri.jenkins@redcross.org
Previous Name: South Georgia
Office Location: 509 N. Patterson St., Suite 201 Valdosta, GA 31601 (Thomasville, Moultrie, Dublin)
Phone: 229-242-7404
25 Counties Served: Atkinson, Bacon, Ben, Hill, Berrien, Bleckley, Brooks, Clinch, Coffee, Colquitt, Cook, Dodge, Echols, Irwin, Jeff Davis, Lanier, Laurens, Lowndes, Pierce, Pulaski, Telfair, Thomas, Tift, Ware, Wheeler, Wilcox
Southeast Georgia
Executive Director: Terri Jenkins terri.jenkins@redcross.org
Previous Name: Southeast & Coastal Georgia
Office Location: 41 Park of Commerce Way Bldg. 200 Savannah, GA 31405 (Brunswick, Statesboro)
Phone: 912-651-5300
18 Counties Served: Appling, Brantley, Bryan, Bulloch, Camden, Candler, Charlton, Chatham, Effingham, Evans, Glynn, Liberty, Long, McIntosh, Montgomery, Tattnall, Toombs, Wayne
Have questions on how the alignment will work in your chapter area? Email your Executive Director at the address listed above.