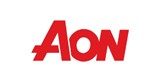 As the leading global provider of risk, reinsurance and human resource consulting and outsourcing services, Aon helps clients mitigate risk and empower people. These are goals we share with the American Red Cross.
Aon is committed to promoting sustainable improvement to the communities where we work and live. As a member of the Annual Disaster Giving Program we have made an investment in our communities. Our contribution helps to ensure that the American Red Cross has the resources it needs to be prepared to respond quickly to natural disasters and other emergencies.
Aon colleagues across the U.S. further this support to vital Red Cross programs through blood drives, volunteer efforts, board service and disaster giving campaigns.
To learn more about Aon's commitment to community, visit www.aon.com/community ».