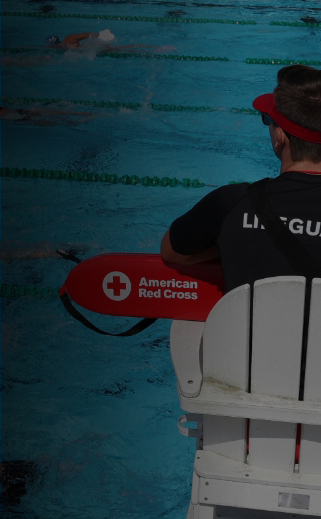 Lifeguard Preparation
Become a certified lifeguard through the American Red Cross lifeguard training and certification program, including First Aid and CPR/AED training to how to conduct patron surveillance, water rescue, teamwork and communication skills. Throughout the course you will learn the knowledge and skills required to become a professional lifeguard.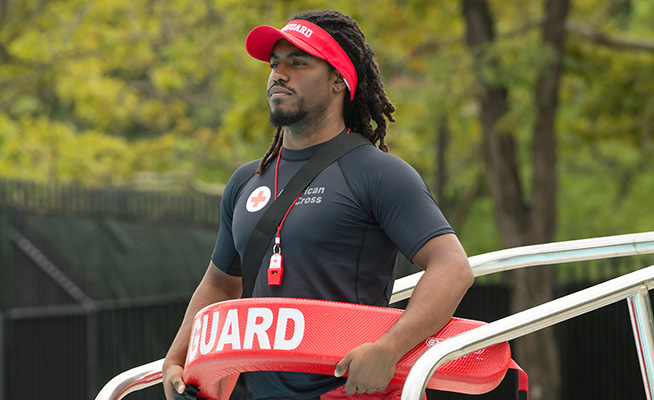 Becoming a Lifeguard
The American Red Cross requires two important prerequisites to the lifeguarding course. A student must be at least 15 years old on or before the last day of class and pass course specific swimming prerequisites prior to the start of training.
Courses and Preparation / Ways to Learn:
In-person course:
Created for those who prefer a traditional learning environment, our in- person courses are led by Red Cross certified Lifeguarding instructors. Our in-person courses provide the time you need to learn, practice, ask questions and understand the hands-on skills needed to become certified as a lifeguard.
Blended learning:
Designed for those who need more flexibility, our blended learning option combines online learning with in-person sessions where you will practice skills and demonstrate competency.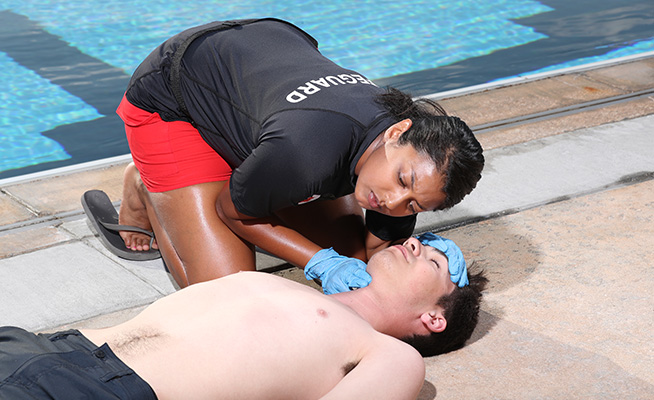 Training Options
There are three main training options to choose from when preparing to become a lifeguard. Training options feature three core courses which can be customized with a variety of optional add-on modules:
Lifeguarding
Shallow Water Lifeguarding (water up to 5', 6' and 7' deep)
Aquatic Attraction Lifeguarding (water up to 3' deep)
A 2-year certification in Lifeguarding with CPR/AED for Professional Rescuers and First Aid is issued upon successful completion of our training and coursework. A digital certification is available upon completion.
Materials:
The American Red Cross requires all participants to have access to a print or digital Lifeguarding Manual while taking the Lifeguarding course.
What to Expect
Getting Started:
You have either enrolled in an instructor led or blended learning lifeguarding class. If you enrolled in a blended learning class, your instructor will provide instructions to access and complete your online session.
At the beginning of the first in-person session, your instructor will verify your age and conduct a prerequisite swimming skills evaluation. The prerequisite swimming skills evaluation will vary based on the lifeguarding certification course you are taking. It consists of swimming, treading water and a timed swimming event. See the table below for specific details.

* If you are unable to successfully perform any of the prerequisite skills, you will not be eligible to enter the Lifeguarding class. Contact your instructor or training provider for further development and training opportunities to prepare for a future lifeguarding class.
Lifeguarding Course Overview
After successfully completing the prerequisite swimming skills evaluation you will alternate between the classroom and water as you learn and practice lifeguarding and First Aid/CPR/AED skills. Course lengths vary by class; the table below contains the minimum time required for an American Red Cross Lifeguarding course, not including breaks for transitions, rest, and meals.
| Course | Minimum Length |
| --- | --- |
| Lifeguarding (Instructor-Led) | 28 hours, 35 minutes in-person |
| Lifeguarding (Blended) | 7 hours online, 19 hours, 55 minutes in-person |
| Shallow Water Lifeguarding | 26 hours, 25 minutes |
| Aquatic Attraction Lifeguarding | 26 hours |
| Lifeguarding Review (for recertification) | 9 hours, 40 minutes |
| Shallow Water Lifeguarding Review (for recertification) | 8 hours, 40 minutes |
| Waterfront Skills | 5 hours, 45 minutes |
| Waterpark Skills | 4 hours, 45 minutes |
More About the Course
Red Cross Lifeguarding classes employ a variety of methods to deliver consistent, high-quality instruction and accurate information. To help you learn new information, build correct psychomotor skills, and develop decision-making and problem-solving skills, a variety of interactive activities are integrated into the course along with:
The Lifeguarding Manual – all students must have a Lifeguarding Manual during class. Your instructor will either provide the manual at the beginning of class, or provide instructions for you to obtain your own manual. Digital manuals are permitted, but be sure to bring a laptop or device other than a mobile phone to view the manual.
Videos – you will watch a variety of videos during class to help convey important information about key concepts and skills including:
Professionalism
Surveillance
Scanning
Injury Prevention
Emergency Action Plans
Water Rescue Skills
Standard Precautions
CPR/AED Skills
Responding to Sudden Illnesses
Responding to Injuries
Skill demonstrations and course activities – you will learn and practice individual and team response skills including how to:
Recognize drowning, conduct surveillance, and respond to emergencies
Enter the water and approach a drowning person
Rescue a drowning person at the surface and submerged on the bottom
Extricate (remove) a person from the water and provide care
Provide ventilations using a resuscitation mask and a bag-valve mask resuscitator
Perform CPR (as an individual rescuer and as part of a team)
Use an AED
Care for a Choking Person
Provide first aid
Note Training manikins are used during the class for CPR chest compressions, giving ventilations, and AED simulations)
You will also learn and practice on equipment that lifeguards use to respond in emergencies, including:
Rescue tubes
Hip Packs
Resuscitation masks
Backboards (for rapid extrication of an unresponsive person)
Backboards with head immobilizers (for suspected head, neck or spinal injuries in the water)
AED training units
Bag-Valve-Mask resuscitators
Nitrile, non-latex gloves
Read more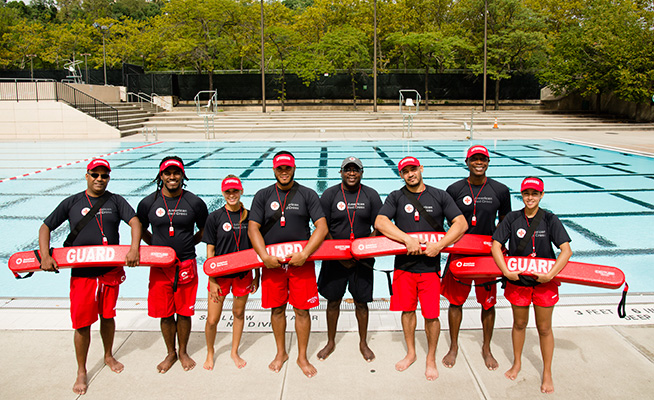 Completing the Lifeguarding Class
At the end of your final in-person session you will take a written exam and a final skills assessment to evaluate your individual rescue skills, and your ability to perform a rescue as part of a team. The final skills assessment will include:
An individual, timed response; you will perform a submerged victim rescue in followed by extrication, primary assessment (with two ventilations) and 3 minutes of single-rescuer CPR.
Multiple Rescuer response; you will work with a team of other rescuers to demonstrate clear communication and critical thinking ability while providing rescue and care using CPR and AED. You will be evaluated on both individual performance, and overall team response performance.
If you have actively participated in all sessions, successfully demonstrated all skills in the course and successfully completed the lifeguarding written exams and final skills assessments you will be awarded a Lifeguarding certificate.
Make sure your instructor has your email address, as you will receive your Red Cross digital certificate immediately after your instructor reports your course completion (typically within 10 business days).
Questions or Concerns About Training?
If you have questions about an upcoming course, please reach out to your instructor or the aquatic facility conducting the course.
If you have concerns related to training you participated in, or if you feel your training was not conducted in compliance with Red Cross standards, please contact: qualityassurance@redcross.org
Quick Links