Aquatics Centennial Campaign
JOIN US
The Centennial Campaign
Helping to Build Confidence in Water, For Life
For more than 100 years, we've been helping millions of kids, teens and adults learn how to swim, become lifeguards and instructors so the water can be a safer place for everyone.
The American Red Cross created the first national program for water safety in the U.S. — and today it's still the gold standard for aquatics training. Our training is making a difference. Since 1914, when we added drowning prevention to our mission, we have helped reduce accidental drownings by nearly 90% nationwide.
Creating an Ecosystem of Water Safety
One of the key components of the Campaign is to create a sustainable ecosystem of water safety to help make communities safer. This includes:
Swim lessons until minimum water competency
Developing lifeguards and Water Safety Instructors® from the community
Water safety courses for parents and caregivers
Integrated into swim lessons
Water safety courses, with hands-on skills, for parents/care givers – in-person or online options
CPR/AED training for parents and caregivers
Community-based outreach
For partner cities, facilitate teaching WHALE Tales in schools or camps
Increase overall awareness of need to learn to swim and know water safety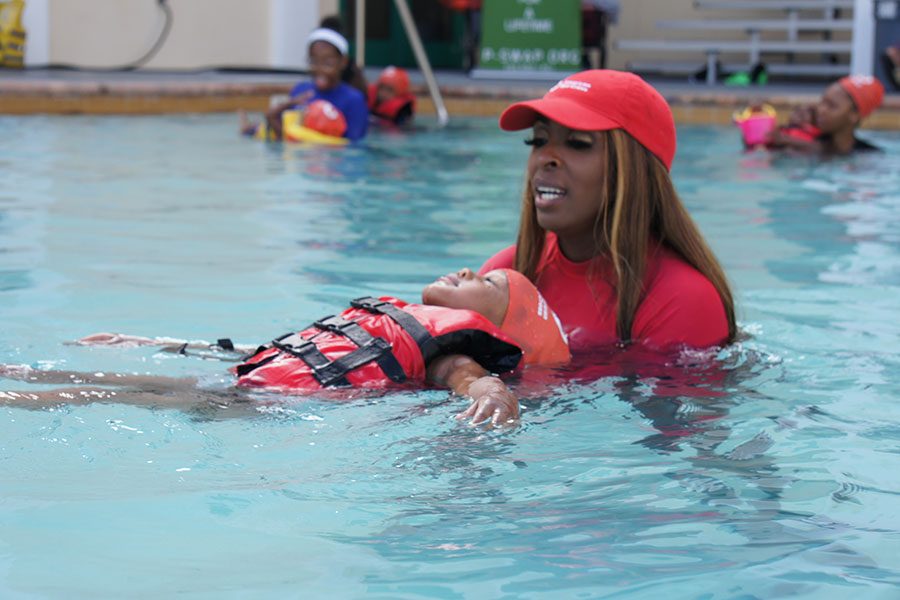 Reducing Drowning Rates
Launched in 2014, which marked our century of swimming safety education, the Red Cross Centennial Campaign began by working with its training providers in selected communities to teach children and adults to become water competent, which is a combination of knowing water safety, having swimming skills and knowing how to help others in a water emergency.
Our mission continues today.
The Campaign is helping us increase our impact by helping our training providers reach families who would not otherwise have the opportunity to access this lifesaving training.
Water Competency
This work makes a difference. A national survey, * conducted for the Red Cross, shows that people believe they are better swimmers than they actually are. The survey found that while 85 percent of Americans said they could swim, only 56 percent of the self-described swimmers can perform all five of the basic skills that might help to save their life in the water.
The Red Cross recommends that everyone learn to perform water safety and swimming skills – in this sequence - that are an essential part of being water competent.
1. Step or jump into the water over your head.
2. Return to the surface and float or tread water for one minute.
3. Turn around in a full circle and find an exit.
4. Swim 25 yards to the exit.
5. Exit from the water. If in a pool, be able to exit without using the ladder.
* The national public opinion survey was conducted for the Red Cross February 5-10, 2020, using ORC International's Online CARAVAN omnibus survey.
Campaign Highlights
As of December 31, 2022, since the Campaign launched, we have
Delivered 121,775 sets of swim lessons (that's nearly 960,000 individual lessons!) to children and adults, teaching them the water safety and swimming skills of water competency and beyond.
Developed 1,981 future lifeguards through Junior Lifeguarding.
Trained 1,506 lifeguards and lifeguard managers.
1,126 people received their Water Safety Instructor® certification.
Equipped 17,980 parents and caregivers with water safety knowledge and skill, with 697 of them receiving focused pediatric CPR/AED training, many resulting in certification.
Want to help build confidence in water for life?
Join the Campaign. Click below and contact us today.